I thought I'd post these old photos up on here for 2 reasons.
1 I found on a forum some interesting new photos. Most of the places I explore are usually destined for the bulldozer and as you have seen, I often show pictures of the place before they went to rack and ruin. This was a rare time to see a place come back from sure death. You can see the incredible transformation in the last photos. It can be yours for £3.5M
2 My photography back then was even worse than it is now but I now have the skills to remaster them a little bit better, so I gave them a makeover.
This place stands out in my memory. Personal belongings littered everywhere. Chaos and destruction in what was someones beloved home. It was the true apocalyptic manor
This trash heap sits festering in the outskirts of a village in Surrey. The house is very 'hansel and gretel' in the trees. There are piles are car mags lying around but the place has decayed pretty heavily. I was a bit sad to see that the cars had been torched, especially the ambulance and the hearse. Don't get me wrong, i love a bit of arson damage, but would like to have seen them intact first.
Double Murder House and Puppy Farm
"An elderly dog breeder is likely to die in jail after he was sentenced to at least 25 years for shooting his partner and her daughter dead at his puppy farm."
"Four years ago we showed how he was breeding scores of dogs at his premises and selling puppies in poor condition to unsuspecting members of the public. Many puppies fell ill within days of leaving the kennels and some died. After our first programme in 2004 John Lowe's licence to breed puppies was taken away by the local council. A year later he appeared before Guildford Magistrates and pleaded guilty to a number of offences including breeding dogs without a licence. He was disqualified from keeping a breeding establishment for two years."
John Lowe, 82, was found guilty of murdering 66-year-old Christine Lee and her daughter Lucy Lee, 40, with his shotgun at his home near Farnham, Surrey, in February. Sentencing Lowe at Guildford Crown Court, Mr Justice Singh praised the "extraordinary courage" of Lucy Lee after she returned to face her killer following a frantic 999 call on the day of the shootings. Lowe, flanked by three security officers, winked at his supporters in the public gallery as he was led from the dock.
Lucy was able to use her mobile phone to make a frantic and desperate call to the emergency services on 999 but was then killed.
See video here- https://www.getsurrey.co.uk/news/surrey-news/tilford-double-murder-puppy-farm-12709438
This one struck a chord with me as it played on childhood fears. I spent my first years in life in London and was always a little disturbed by areas like this and vaguely remember being spooked by half demolished buildings with wallpapre and tiles haging on on the outside. This place awoke those old chills
The Asylum Doctor's House
This little property sat a few hundred yards outside the main asylum complex.
I'm not sure it if was Doctor's or Doctors.
It was quite nice seeing the original stamping of the property on various bits of architectural wood within the building, confirming it's original purpose.
As you can see, it is pretty well beaten up up but was nice to see remnants of wallpaper and carpet.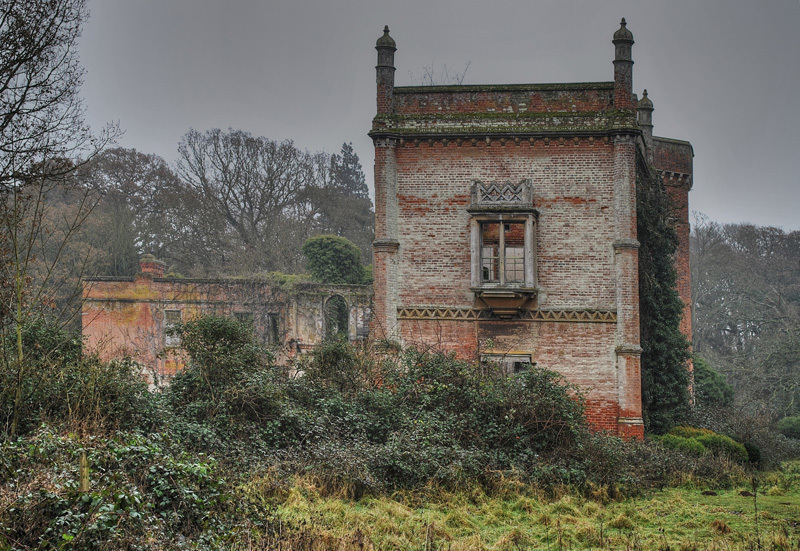 A serene shell in the country
Built in the 1820s or 1830s in red brick for Philip Bennet to replace an earlier house on a different site. Extensions were added in the late 19th century. In 1905 the estate was acquired by Sir George Agnew and has remained in the family's ownership since that date.

At the beginning of WW2 the house was taken over by the military but hit by a bomb in September 1940 during a series Luftwaffe raids on the area where an ammunition dump was being established. The house has remained derelict. In 1975 the west tower was demolished